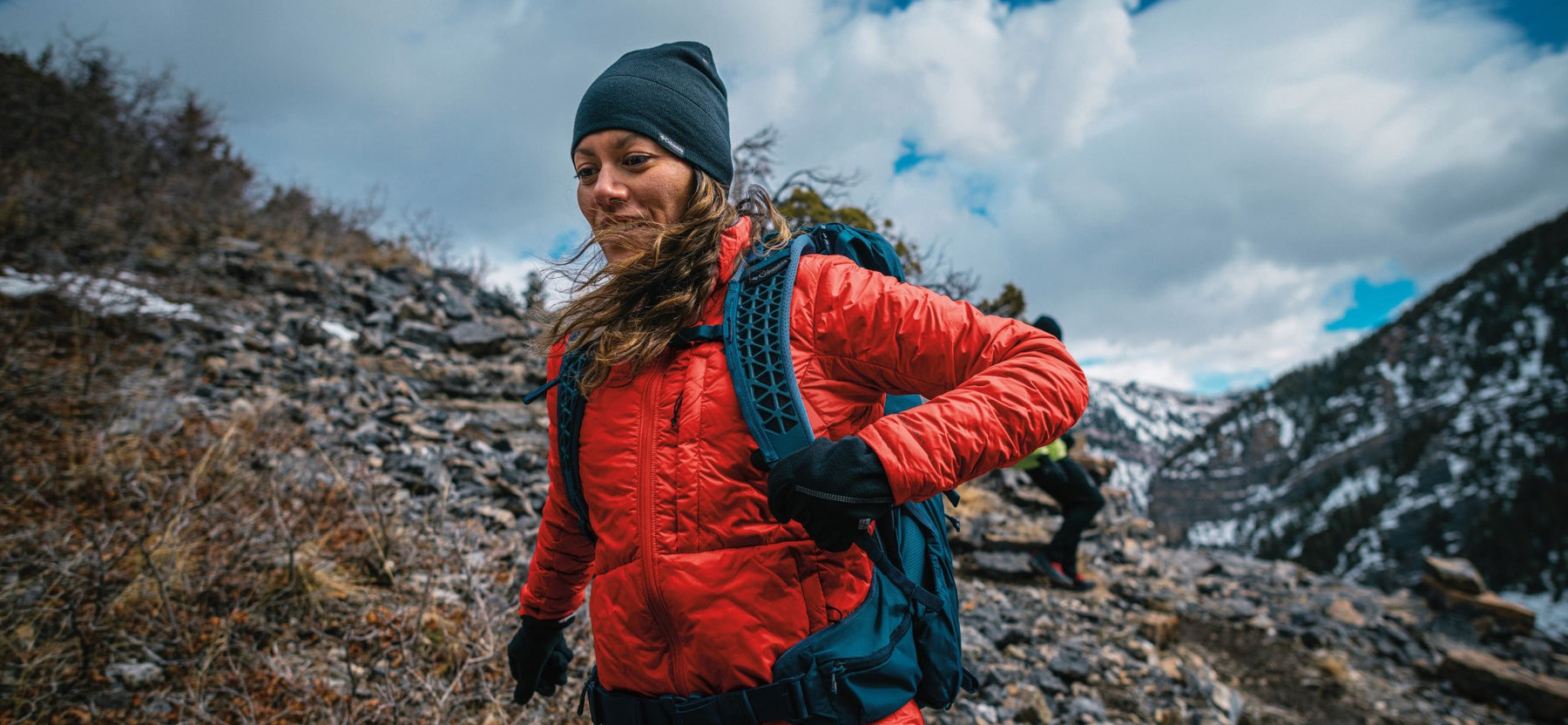 How to Layer: Best Outdoor Clothing Layering System
How do you stay at a comfortable temperature when you're out adventuring? This is where the 3 layer system comes in. The layering system is a tried and tested method of dressing for the outdoors, no matter the weather or the activity. Here we talk about layering basics and essentials when it comes to choosing the right outdoor clothing for you.
How to Layer
There are three main components when layering: 
Each layer has a different purpose - but with one main aim, to keep you warm!
Why layer when you could just wear a warm and waterproof coat? Simply put, layering allows you to remove or add clothing depending on how warm you are and what the weather is like. It allows you to stay comfortable outdoors no matter what the weather conditions are.
Base layer
The base layer is just that - it's the layer closest to your skin and provides the foundation for layering. Base layers have one main purpose - moisture management. Base layers manage moisture by wicking up your sweat, taking it off your skin to keep you dry, warm and comfortable. 
It's important to consider the material your base layer is made from. There are two main types when it comes to base layers - merino wool and synthetic material. 
Synthetic base layers are usually more affordable, durable, stretchy and lightweight. They're also easier to wash and dry, which makes them perfect for backpackers. We recommend synthetic base layers to those who generally do higher intensity activities. 
Merino wool base layers are warm, sweat wicking, non-itchy and much more breathable than their synthetic counterparts. They are great at both insulating and wicking, to keep you comfortable in any conditions. What's more is merino wool is naturally antimicrobial so it'll help eliminate odor - particularly handy for multi day hikes! Merino wool is perfect for activities with a lot of stopping and starting like hiking, climbing and skiing. 
TOP TIP: Avoid cotton base layers as these will absorb your sweat and you'll become cold, or even hypothermic when you slow down. 
Mid layer 
The purpose of the mid layer is to provide insulation. In general the thicker the mid layer, the warmer you'll be. 
As with base layers there are both synthetic and natural options when it comes to choosing your mid layer. Common mid layer options include:
Polyester Fleece   

Down Insulated Jackets

Synthetic Insulated Jackets 
A polyester fleece is the classic and usually the most affordable of all mid layer options. While it is naturally hydrophobic - therefore keeping you dry and warm, it is not windproof. This is why an outer layer/shell is needed to protect you from the wind. 

Synthetic insulated jackets are warm, affordable and generally wind and water resistant. They are effective in keeping you warm even when damp, unlike down insulated jackets. However they are usually not as lightweight and packable as down jackets. 

Down insulated jackets offer the best warmth to weight ratio of any insulated jacket and are extremely packable. While on the more expensive side, down jackets are guaranteed to keep you warm, and are packable and lightweight - perfect for backpacking. Do be wary though that down jackets will not keep you warm once wet. Hence a waterproof shell is vital on damp and rainy days. Down jackets also require extra maintenance to keep them performing to the best of their ability. 
Outer layer / Shell 
Commonly referred to as a shell, the outer layer generally has two functions: to keep the wind and rain out. Outer Layers are almost always synthetic and can have different properties depending on what kind of activity they are required for. 
Waterproof breathable shells are the most effective, and usually most expensive option - waterproof and breathable shells will keep you comfortable no matter what the conditions. 
Water resistant/breathable shells will keep light rain out, but soon enough you'll find that water has soaked through. Often these shells are also wind resistant, perfect for high intensity outdoor activities on a day where it is unlikely to rain. 

Soft shells focus on breathability and are often more stretchy than other shells. They also offer light wind and rain protection, with the addition of light insulation.
Waterproof / Non breathable shells are great for low intensity activities, for example if you'll be standing around all day fishing or attending a concert or a match. However, as soon as you start to pick up the pace, you'll soon find that you're damp from the inside out due to the low breathability of these jackets.   

Now you know how to layer up correctly, have a look on our website for the perfect layers to suit you. DON'T FORGET, an extra layer to carry is better than a layer you don't have with you at all!