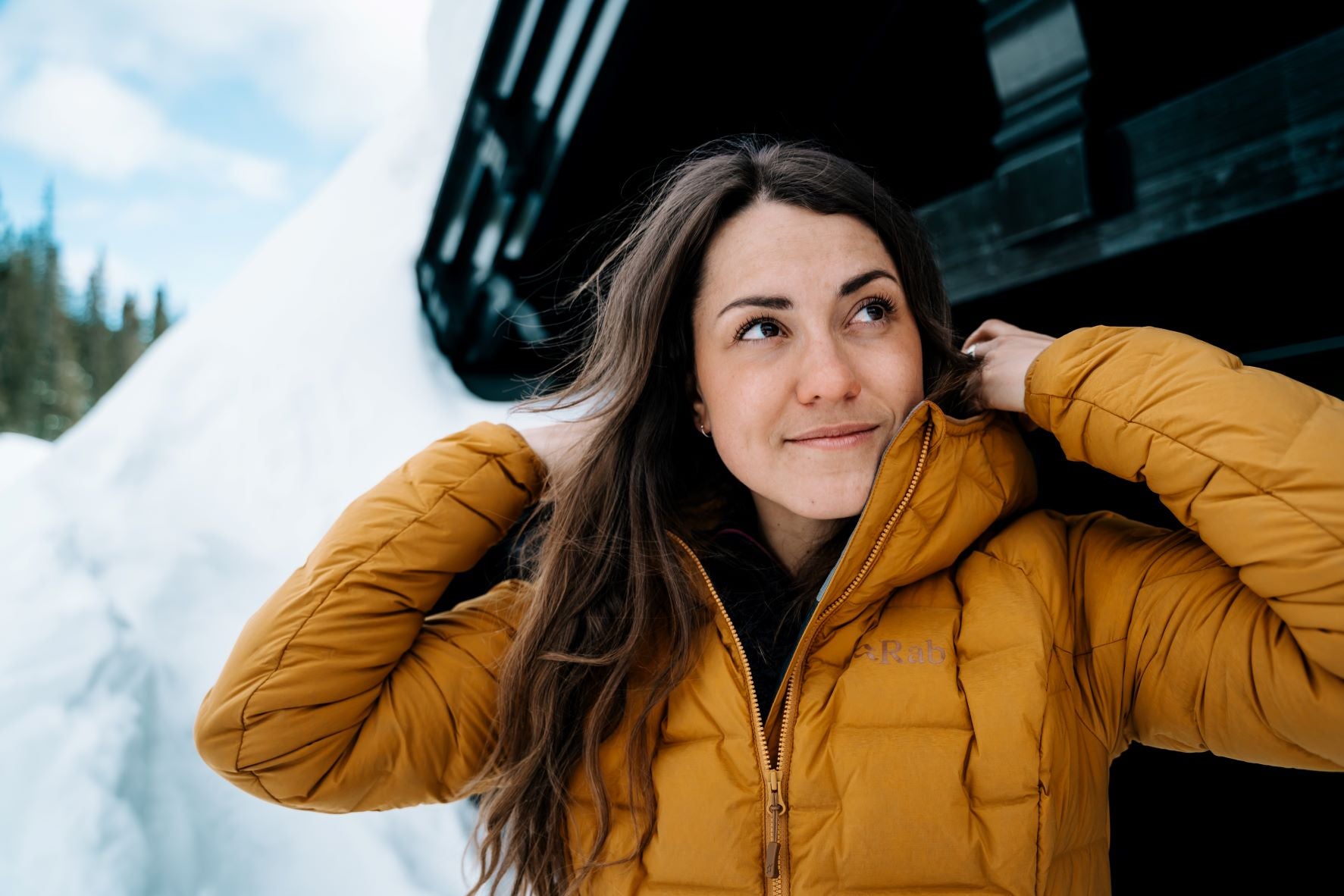 How to Choose an Insulated Jacket
It can be quite hard to choose an insulated jacket - we know we're all adventurers here! In store, we get this question every single day, so you can trust us to guide you through the process of choosing an insulated jacket for all your cold weather adventuring needs.
Step 1: Choosing an Insulation Type
Firstly, you need to decide what insulation type you want to go for. There are two main types: Down and Synthetic. Down is just that - duck down i.e tiny duck undercoat feathers. Synthetic is also pretty self explanatory, it's man made insulation, and the only option for vegan buyers. 
Down 
Down insulation is our personal favourite (we have to be honest), but like everything there are both pros and cons to down insulation. Are you down with down? Have a look at the pros and cons below...
Pros
Superb warmth to weight ratio

Packs down small 

Durable - last for decades if cared for correctly
We recommend the Nik Wax down wash and down proof when caring for your down jacket.
Cons
Once down is wet, it won't insulate you

More expensive (although worth it in the long run)

Non hypoallergenic (i.e. no sneezing fits for some!)
As down jackets don't work once wet, you need a good waterproof shell jacket to wear over it, or make sure the jacket itself has a waterproof membrane. 
Best for: 
Anyone conscious about the weight of their pack
Cold dry conditions (or wet weather if you have a waterproof shell)
Mid level activity 
Hikers, climbers, mountaineers, backpackers, ultralight backpacking
Synthetic Insulation
Synthetic insulation, typically made of polyester is a more affordable option, and great for beginners or those adventuring on a budget. While our preference is down, there are times when synthetic insulation can be a better choice 
Pros
Budget friendly
Naturally hydrophobic (will keep you warm even when wet)
Hypoallergenic (i.e. you won't sneeze at all)
Cons
Bulkier and stiffer than down
Offers less warmth to weight ratio
Less durable 
Best for:
Beginners, or those adventuring on a budget
Cold & Wet conditions 
Mid level activity
More casual adventurers, who don't mind the bulkiness
Step 2: What Jacket Features do you need? 
Now that we've covered how to choose the right insulation type for you, let's talk about jacket features. By features we mean things like hoods, vents and pockets.
Hoods
Hoods are a great additional feature for windy/wet conditions, however, if you're conscious about the weight of your pack, you may choose to opt for a jacket without a hood. Climbers also need to ensure that the hood is big enough to fit over their helmet 
Vents 
Vents are usually zipped openings found under the arms of the jacket to allow extra breathability when your activity level increases. Think of them as windows which you can open and close as your body temperature changes.
Storm guards/flaps 
These are extra pieces of material covering zips to add extra protection from wind and rain - a really great feature to have on your insulated jacket depending on the weather where you intend to adventure. 
Waterproof Shell 
Many insulated jackets will come with some degree of water resistance, but require you to wear a waterproof shell on top to keep the wind and rain out. Waterproof insulated jackets can prove great when doing an activity like skiing, but if you don't need the waterproofing all the time, we recommend going for an insulated jacket without waterproofing. This is mainly because waterproof jackets mean less breathability, so we suggest using a waterproof shell that you can pop on when the rain and wind picks up.
Get the right gear for you
Hopefully we've been able to give you some clarity on how to choose the right  insulated jacket for you. Remember - there is no right answer, it's all down to your preferences but these are some general points that you should consider when you're making your decision.
If you still have questions about choosing the right jacket, you can drop our insulation experts an email at info@basecamp.ie, or pop into us in store - we're always happy to help.
Stay warm out there!