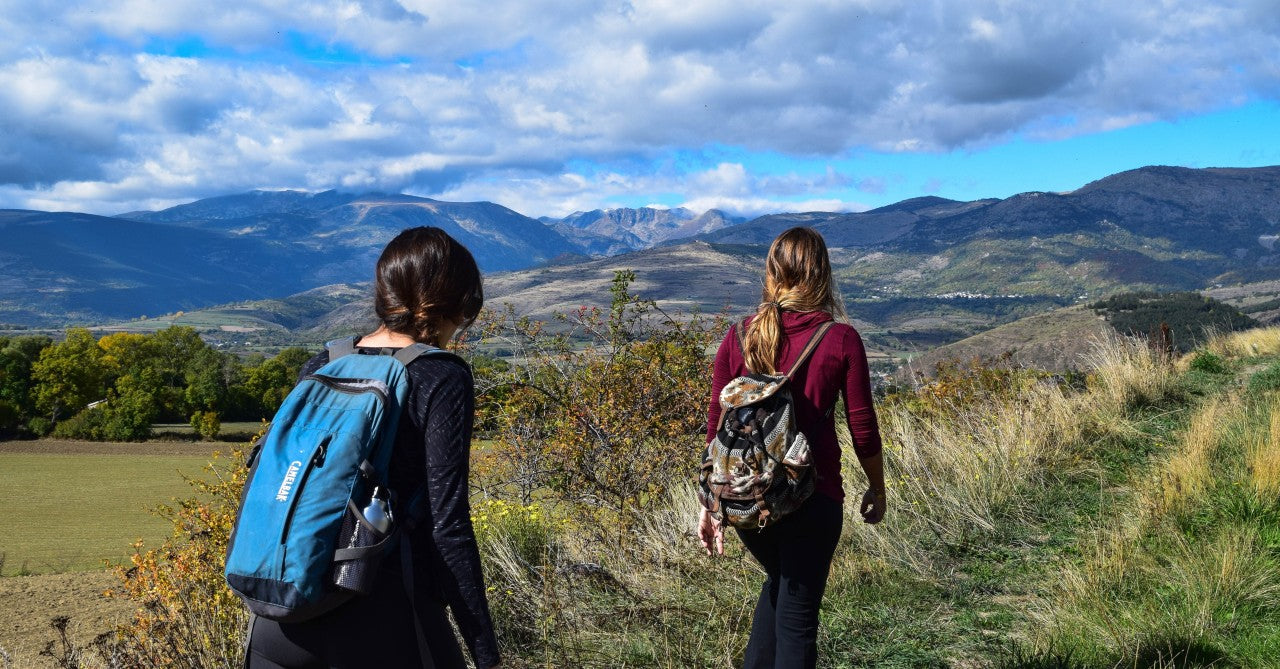 8 Tips for Your Next Hiking Trip
Our List of Hiking Hacks
Heading on your first hike this weekend? Or just want to brush up on your hiking skills? Here are our 8 tips that will make you a pro in no time.
1. Choose your trail
First and foremost, you need to decide where you want your first hike to be. It's best not to start out with anything too difficult in the interest of both your safety and your morale! Find a beginner trail in your area, why not ask a friend or a local hiking guide for a recommendation.
Some great hiking routes in Ireland for beginners include:
Knocknarea, Queen Maeve Trail, Co Sligo.
Glendalough, Spinc walk, Co Wicklow.
Muckross Lake Loop Trail, Killarney National Park,  Co.Kerry
Cliffs of Moher Coastal Walk, Co Clare.
Howth Cliff Walk, Co Dublin.
2. Study the trail
You're off to a good start, you've chosen a trail! Next you should familiarise yourself with the trail directions, it's distance, and any nice spots to stop for a picnic. Not only will this get you excited for your first hike day, but it will ensure you are properly prepared for the trail you're hiking. 
For example, if there is steep or uneven terrain it's a good idea to have a pair of hiking poles to keep you stable. You can get yours here.
A compass or GPS are great tools to bring with you to help with your navigation - no matter how well you've studied the trail.
3. Check the Weather
It's very important to check the weather the day before and the morning of your hike. This will help you pack and dress accordingly. You never know what our lovely Irish weather is up to, it's very unpredictable, so it's best to expect the unexpected - pack some rain gear, even if there is no rain forecast. There's nothing worse than getting drenched halfway through your hike and trudging home with soggy clothes and spirits. 
If your hike is a long and remote one, it's also good practice to bring a change of clothes and an emergency shelter - incase you get caught in a heavy downpour or storm. 
4. Communication is Key
Some trails aren't too remote and you'll be able to get phone service, but more than likely you will lose phone service on your hike. It's a good idea to let someone you trust know where you're going and when you'll be back, just in case! You can also send messages (and SOS signals) to friends and family with most GPS devices.
5. Pack accordingly 
With the location and weather in mind it's time to pack your gear. Here are some essentials to pack for your hike:
Water - we recommend using a

 

hydration bladder

 

to carry your water. This is lightweight and you will be able to have a sip whenever you want, without having to rummage around in your backpack. 
Food (and snacks), we suggest dehydrated

 

adventure food  
Hat and gloves 
Extra Fleece
Waterproof jacket and trousers
Sunscreen and sunglasses
Hiking / Trekking poles
Waterproof Hiking boots
Hiking

 

socks
Compass
  6.
Get suited and booted 
Another important one - dress according to where you're going, and no, you CANNOT wear jeans! If you don't want to invest in a pair of hiking trousers just yet, make sure to wear bottoms that you are comfortable in. They should be loose fitting and durable. 
If you're going to be hiking in a cold climate you should wear a thermal layer made of merino wool or a synthetic material. Stay away from cotton for your baselayer - once you begin to sweat cotton will no longer keep you warm and you'll get chilly very quickly. You should follow this with a fleece (midlayer) and a coat (outlayer). 
If it's a warmer climate it's still a good idea to wear layers, as the temperature on top of a mountain is much cooler than at the base.   
7. Slow and steady wins the race
Take your time on your hike - it's 100% not a race. Enjoy your surroundings and hike at your own pace. Take a break and have a snack when you feel your energy dwindling. If you're hiking with a group that is travelling at a faster pace than you feel comfortable with, don't be afraid to ask them to slow down or stop for a break. 
8. Leave no trace  
Last but certainly not least - the golden rule: leave no trace. By that we mean leave only footprints, take all your rubbish home with you, be respectful of animals and wildlife, and leave what you find. A detailed list of leave no trace can be found here, make sure to check it out before you go hiking.