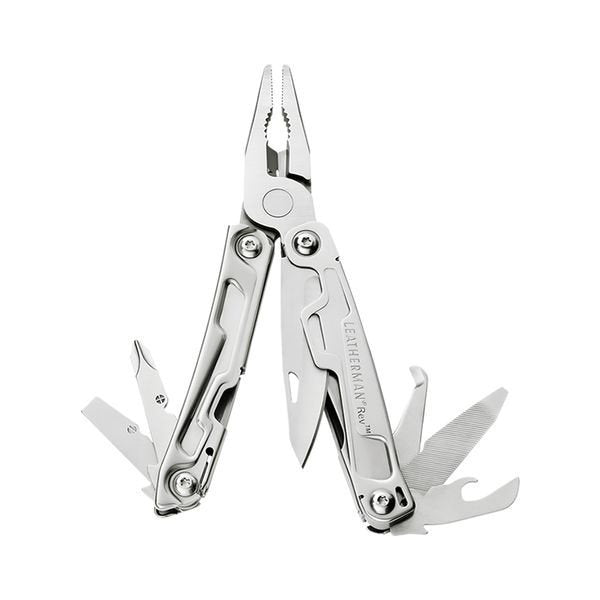 Rev
Save

0

%
Save %
Original price
€69,95
-
Original price
€69,95
The Leatherman REV gives you the power of having a toolbox at your fingertips. With 13 tools, an outside accessible edge and a replaceable pocket clip for comfortable, easy carry it's a guaranteed win no matter where you are. Whether it's under the hood of your car or just cracking open a cold beer after a hard days DIY, the REV has you covered.
REV Tools
1. Needlenose Pliers: A cast pinching tool with an angled nose for holding or manipulating materials, ideal for small objects or tight spaces.
2. Regular Pliers: A cast pinching tool for holding or manipulating materials.
3. Hard-wire Cutters: Bypassing cutting edges ideal for cutting hard wire.
4. Wire Cutters: 420HC stainless steel bypass cutting edges, meant for cutting regular-gauge wire.
5. 420HC Tool: A tool crafted from 420HC, a high-carbon stainless steel that is corrosion resistant and can be easily maintained.
6. Package Opener: This angled tool allows for easy opening of tough packaging material such as theft-deterrent plastic or packing tape.
7. Ruler (1.5"/3.8cm): A precise measuring guide for determining length in inches or centimetres, up to 1.5 inches or 3.8 centimetres.
8. Can Opener: A lever/punch style tool to assist in opening canned goods, perfect for camping or in survival situations. The edge on this tool has been ground in a way that it pushes the cut metal into the rim, keeping sharp edges from cutting the user as the can is handled.
9. Bottle Opener: A tool that allows the user to pop the top on a favourite beverage.
10. Wood/Metal File: A 420HC stainless steel tool with a crisscross pattern that forms a rough surface for the user to file or smooth both wood and metal surfaces. The file pattern on Leatherman files is extended to the end of the file as well as down the side to give a file stoke and/or a more precise file edge.
11. Phillips Screwdriver: Created originally by Henry F. Phillips, this screwdriver is for use on Phillips head screws.
12. Medium Screwdriver: A flat edged screwdriver tooled from 420HC stainless steel, intended for use on medium slotted screws.
13. Small Screwdriver: A flat edged screwdriver tooled from 420HC stainless steel, intended for use on small slotted screws.
REV Features:
A. Locking Edge: A tool edge that locks into place when fully deployed. A user must manually unlock the edge to fold it away, which allows for a much safer user experience.
B. Replaceable Pocket Clip: A removable clip which allows the user to wear their multi-tool attached to a pocket or belt loop without the use of a sheath. By removing the clip, the user is able to easily carry their tool in a sheath if preferred.
C. Outside-accessible Features: This multi-tool features tools that are accessible while the tool is in its folded or closed position, mimicking the functionality of a pocket tool.
Materials:
420HC Stainless Steel: An improved, high-carbon (HC) form of 420 stainless steel that works well with high production tooling. 420HC's strength is optimized in Leatherman multi-tools by heat treatment.
Further Information:
Closed Length: 3.8"/9.7cm
Weight: 5.9oz/168g
Edge Length: 2.6"/6.6cm